Born:
December 26, 1914
Passed Away:
February 9, 2008
Contributions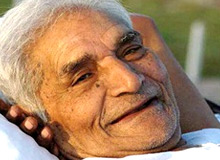 From a child born with a silver spoon in his mouth, Baba Amte later transformed his life into a social activist. He devoted his entire life to serve the downtrodden people of the society. He left his lucrative profession to join India's struggle for independence. Baba Amte formed Anandvan (Forest of Joy), to serve the people struck by leprosy. He received many awards including the Ramon Magsaysay Award.
Life
Muralidhar Devdas Amte, popularly known as Baba Amte, was born on 26 December, 1914 in Hinganghat, Wardha district in Maharashtra. He was the eldest son of his parents. His father was a wealthy Brahmin landowner of Wardha district, who owned over 450 acres of good cultivable land. The name 'Baba' was affectionately given by his parents. At a very young age, Baba Amte owned a gun and used to hunt wild boar and deer. Later, he went on to own an expensive sports car, cushioned with panther skin.
He studied Law and started a lucrative practice in Wardha, but was moved by distressed condition of the poor and downtrodden classes of society. Then he relinquished his ceremonial dress and started working with the rag-pickers and sweepers for sometime in Chandrapura district. Later, he resumed practicing but as a "defence lawyer" for the leaders imprisoned in the 1942 Quit India movement.
Amte, like Vinoba Bhave was deeply influenced by the philosophy of Mahatma Gandhi. Amte was a constant follower of Gandhiji and practiced various aspects of Gandhism for his entire life.
In 1946, Baba Amte married Sadhana Guleshastri. She was also a believer of humanity and always supported Baba Amte in his social works. She was popularly known as Sadhnatai. 'Tai' in Marathi language means "elder sister". After pursuing a leprosy orientation course at the Calcutta School of Tropical Medicine, Baba Amte set up 11 weekly clinics and started working for those struck by leprosy. Later in 1951, Baba Amte was given 250 acres of land by the state government on which Amte founded the Anandvan ashram. Inside the ashram premises, two hospitals, a university, an orphanage and a school for the blind were opened.
Amte's role in Narmada Bachao Andolan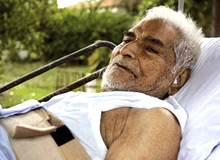 In 1990, Baba Amte left Anandvan to join Medha Patkar's Narmada Bachao Andolan (Save Narmada Movement). While leaving Anandvan Baba said, "I am leaving to live along the Narmada... Narmada will linger on the lips of the nation as a symbol of all struggles against social injustice." In place of the dams, the Narmada Bachao Andolan demanded for an energy and water strategy based on improving dry farming technology, watershed development, small dams, lift schemes for irrigation and drinking water, and improved efficiency and utilization of existing dams.
Baba Amte on Youth
Baba wanted the youth to enlighten themselves with knowledge so that they can understand the meaning and importance of India's freedom. Baba had once said, "We must try to understand this power contained in the roots of trees. Only when you will understand this phenomenon, will you find the courage to embrace adventure and perform what needs to be done. Those who want to bring about creative revolution must fully understand this root phenomenon."
Awards
The work of Baba Amte, was unanimously praised by many national and international organizations. He was awarded with the United Nations Human Rights Prize, the Ramon Magsaysay award (1985), the Templeton Prize(1990), the Gandhi Peace Prize, and many other humanitarian and environmental prizes. The Ramon Magsaysay Award is often considered as the "Nobel Prize of Asia".
Death
In 2007, Baba Amte was diagnosed with leukemia. After suffering for more than a year, Amte left his mortal body on 9 February, 2008 at Anandvan. Many renowned faces from across the world expressed condolences at the death of the great soul. Unlike Hindu rituals, the body of Baba Amte was buried not cremated.