| | |
| --- | --- |
| Location: | Uttranchal, India |
| Highlight: | One of the holiest shrines in India dedicated to Lord Vishnu |
| How to Reach: | Badrinath is well connected by roads and can be reached by taking a bus from any nearby place like Delhi, Shimla, Rishikesh, Haridwar, Dehradun and Kotdwar. The nearest railway station is at Rishikesh. |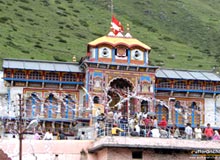 Badrinath Temple is located in the state of Uttranchal in India. Nestled between the twin mountains of "Nar" and "Narayan", the holy Badrinath pilgrimage is visited by scores of devotees every year. It is mentioned in the holy scriptures and its holiness is emphasized by a saying that means, "There may be many sacred pilgrimages in the heaven, earth and the nether world, but there has been none equal to Badrinath, nor shall there be". This lovely temple is located at a height of around 10,250 feet above sea level and the surrounding landscape provides breathtaking visuals.
Adi Shankaracharya, the famous Hindu philosopher saint of 8th century, constructed the present temple. It has been renovated and reconstructed a number of times since it was damaged by earthquakes, avalanches and landslides. The main priest at the temple is a Namboodri from Kerala. The temple is dedicated to Lord Vishnu of the Hindu trinity of Gods, who is seen in a meditative pose. The temple is divided into three main chambers namely Garbha Griha (main sanctorum where the idol is placed), Darshan Mandap (where religious ceremonies take place) and the Sabha Mandap (where all devotees assemble).
There are fifteen idols in total in the temple complex, all of which are made of black stone. The main idol of Lord Vishnu is sitting in a meditative pose with cross legs and folded hands. Some people claim that it resembles Lord Buddha, though Buddha is supposed to be the ninth incarnation of Lord Vishnu. The temple is closed during the winter season since the temperatures drop below zero. It is open from April-May to October- November. It is recommended that you take heavy woolens whenever you visit the temple. The trail that leads to Badrinath is undulating due to hilly terrain and is considered quite taxing, though it is a treat for adventure lovers.