Born:
23 July 1856
Passed Away:
1 August 1920
Contributions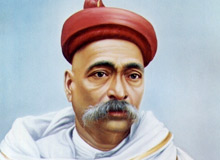 Bal Gangadhar Tilak was a social reformer and freedom fighter. He was one of the prime architects of modern India and strongest advocates of Swaraj (Self Rule). He was universally recognized as the "Father of Indian Movement". Tilak was a brilliant politician as well as a profound scholar who believed that independence is the foremost necessity for the well being of a nation.
Life: Bal Gangadhar Tilak was born on July 22, 1856 in a middle class family in Ratnagiri, a small coastal town in southwestern Maharashtra. Tilak's father, Gangadhar Shastri, was a noted Sanskrit scholar and school teacher at Ratnagiri. His mother's name was Paravti Bai Gangadhar. In 1886, following his father's transfer, the entire family shifted to Poona.
Tilak was a brilliant student and also very good in mathematics. Since his childhood, Tilak had an intolerant attitude towards injustice and he was truthful and straightforward in nature. Though, he was among the India's first generation of youth to receive a modern, college education Tilak was a critic of the educational system, the British had provided for the Indians. According to him, the education was not at all adequate. After graduating from Deccan College, Pune in 1877, Tilak also cleared the L.L.B. from the Elphinston College, Mumbai. Later, he helped found a school that laid emphasis on nationalism.
Social Reforms
After completing his education, Tilak spurned the lucrative offers of government service and decided to devote himself to the larger cause of national awakening. He was a great reformer and throughout his life he emphasized on the concepts of women education and women empowerment. Tilak educated all of his daughters and did not marry them till they were over 16. To inspire a sense of unity, he introduced the festivals like 'Ganesh Chaturthi' and Shivaji Jayanti'. Today, Ganesh Chaturthi is considered as the prime festival of the Marathis. It is a sheer tragedy that for his allegiance towards extremism, Tilak and his contribution were not given the recognition, he actually deserved.
Newspapers
Towards his goal, Bal Gangadhar Tilak launched two newspapers called 'Mahratta' (English) and 'Kesari' (Marathi). Both the newspaper stressed on making the Indians aware of the glorious past and empowered them to be self reliant. In other words, the newspaper actively propagated the cause of national freedom.
In 1896, When the entire nation was gripped by the famine and plague, the British government declared that there was no cause for anxiety. The government also rejected the need to start a 'Famine Relief Fund'. The attitude of the government was severely criticized by both the newspapers. Tilak fearlessly published reports about the havoc caused by famine and plague and government's utter irresponsibility and indifference.
Extremism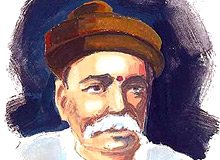 Bal Gangadhar Tilak joined the Indian National Congress Party in 1890. Realizing that the constitutional agitation in itself was futile against the British, Tilak opposed the moderate views of the party. This subsequently made him stand against the prominent leaders like Gopal Krishna Gokhale. He was waiting for an armed revolt to broom-away the British. His movement was based on the principles of Swadeshi (Indigenous), Boycott and Education. But his methods also raised bitter controversies within the Indian National Congress Party and the movement itself.
As a result, Tilak formed the extremist wing of Indian National Congress Party. Tilak was well supported by fellow nationalists Bipin Chandra Pal in Bengal and Lala Lajpat Rai in Punjab. The trio was referred to as the Lal-Bal-Pal. A massive trouble broke out between the moderate and extremist factions of the Indian National Congress Party in the 1907 session of the Congress Party. As a result of which, the Congress split into two factions.
During 1908-1914, Bal Gangadhar Tilak spent six years rigorous imprisonment in Mandalay Jail, Burma. He was deported because of his alleged support to the Indian revolutionaries, who had killed some British people. Following his growing fame and popularity, the British government also tried to stop the publication of his newspapers. His wife died in Pune while he was languishing in Mandalay prison.
Tilak returned to India in 1915 when the political situation was fast changing under the shadow of World War I. There was unprecedented jubilation in India after Tilak was free and back in India. After seeing such a grand welcome, Tilak decided to re-unite with his fellow nationalists and founded the All India Home Rule League in 1916 with Joseph Baptista, Annie Besant and Muhammad Ali Jinnah.
Death
Tilak was so disappointed by the brutal incident of Jalianwala Bagh massacre that his health started declining. Despite his illness, Tilak issued a call to the Indians not to stop their movement no matter what happened. He was raring to lead the movement but his health did not permit that. Tilak had become very weak by this time. In mid-July 1920, his condition worsened and on August 1, he passed away.
Even as this sad news was spreading, a veritable ocean of people surged to his house. Over 2 lakh people gathered at his residence in Bombay (now, Mumbai) to have the last glimpse of their beloved leader.