Belur Math
| | |
| --- | --- |
| Location: | Karnataka (Hassan district), India |
| Highlights: | Ancient temples of the Hoysala empire |
| How to Reach: | The nearest airport to Belur is at Bangalore, at a distance of 222 kilometers. Hassan railway station is at a distance of 40 kilometers from here. Belur math can be easily reached by roads. |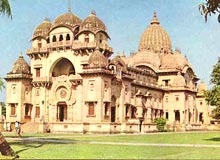 Belur was the ancient capital city of the Hoysala Empire. Belur math is a major tourist destination in Karnataka. The exact location of Belur Math is in the Hassan district of Karnataka. During ancient times, this place was known by the name of Velapuri. The main Belur temple is known as "Chennakesava Temple". This temple is dedicated to Lord Vishnu and the name "Chennakesava" means handsome Vishnu. The Belur temples can be easily reached from anywhere in Karnataka, as a wide number of roads connect this major tourist attraction to all major cities nearby.
Devotees still visit the two shrines located here to pray to the Almighty. There is a stepped well called as Pushkarni, which is located at the right side of the main entrance. The King of Vijayanagar got a Gopuram constructed on the temple in the typical Dravidian style of architecture. The deity over here was considered to be the "Kuladevata" or family God. Many devotees still come here to worship and seek the blessings of the Almighty.
The Chennakesava temple is a fine example of Hoysala style of architecture. The carvings are so intricate and refined that it took almost 103 years to finish constructing the temple! The splendid craftsmanship is visible in the life size images of elephants, lions, horses and gorgeous dancers known "Shilabalikas". One of the major attractions of the temple is the carved image of "Darpana Sundari", which means lady with a mirror. There are also a number of pillars that are ornately carved with beautiful motifs. The temple may be declared as a world heritage site soon by UNESCO.