Born:
July 23, 1906
Passed Away:
February 27, 1931
Contributions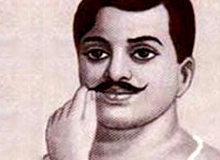 A contemporary of Bhagat Singh, Chandrasekhar Azad was a born firebrand revolutionary. He engaged in a heroic battle against the British. His role was crucial in inspiring the others of his generation to participate in the national movement for freedom.
Life
Chandrasekhar Azad was born to Pandit Sita Ram Tiwari and Jagrani Devi on July 23, 1906 in Badarka (Unnao). His original name was Chandrasekhar Tiwari.
He received his early schooling in Bhavra District in Jhabua, Madhya Pradesh. For higher studies he went to the Sanskrit Pathashala at Varanasi. Chandrashekhar was deeply troubled by the Jalianwalabagh massacre in Amritsar in 1919. Azad, at an age of 15, got involved in the revolutionary activities. He was caught by the British police while participating in the non-cooperation movement and sentenced to. whiplashes as punishment. When the magistrate asked him his name, he said "Azad" (independence). From that point onwards, Chandrashekhar assumed the title of Azad and came to be known as Chandrashekhar Azad.
Following the Chauri-Chaura incident, in which police stations were vandalized and burnt by the activists, Mahatma Gandhi called for the suspension of the non-cooperation movement. Azad, along with Bhagat Singh distanced themselves from the paths of Gandhi. They were more attracted by the aggressive and violent revolutionary ideals and means. Towards this end, they formed the Hindustan Socialist Republican Association and trained the revolutionaries like Bhagat Singh, Sukhdev, Batukeshwar Dutt, and Rajguru. Azad was instrumental in carrying out numerous acts of violence. This includes the Kakori Train Robbery in 1926, assassination of John Poyantz Saunders in 1928 at Lahore to avenge the killing of Lala Lajpat Rai.
How important his role was in the freedom struggle of India can be understood by the fact that the British police badly wanted to nab him dead or alive. On February 27, 1931 Chandrashekhar Azad while meeting with friends at Alfred Park, Allahabad, and the police surrounded the park and asked Chandrashekhar Azad to surrender. Azad fought alone and valiantly and killed three policemen but after nearly exhausting his ammunition and foreseeing no means of escape, he shot himself in the head with his last bullet. He was reportedly betrayed by an informer.
After the independence, to commemorate Chandrashekhar Azad, Alfred Park was renamed Chandrashekhar Azad Park. The patriotism of Azad, Rajguru, Pandit Ram Prasad Basil and Ashfaqula Khan was depicted in Rang De Besant, a contemporary Bollywood film starring Aimer Khan that was released in February 2006.