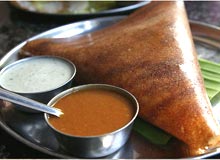 The cuisine of South India is known for its light, low calorie appetizing dishes. The traditional food of South India is mainly rice based. The cuisine is famous for its wonderful mixing of rice and lentils to prepare yummy lip smacking dosas, vadas, idlis and uttapams. South Indian dishes are not just delicious, but also very easily digestible. The best part is that South Indians do not use much of oil for cooking their meals.
Sambhar is like a must in the main course. It is usually a companion to most of the food items then be it idli, vada or dosa. Most of the South Indian dishes consist of sambhar, rasam, vegetable curry and pachadi (yogurt). When it comes to rice preparations, South Indians are real experts. Their lemon rice is savored and appreciated by almost all the people. Other preparations of rice include coconut rice, carrot rice and fried rice made by using coconut, curry leaves, urad dal, tamarind, peanuts, chilies, and fenugreek seeds.
South Indian chutneys are well liked by people. Infact, chutney, especially the one made from coconut, is the major attraction for many people to visit a restaurant that specializes in South Indian cuisine. The main ingredients for preparing varied chutneys are coconut, peanuts, dal, tamarind, fenugreek seeds, and cilantro. Dals cooked in the South Indian style are also quite different from that of North Indian preparation. They are more soupy in comparison to the dals cooked in the North Indian style.
The cuisine of South India is hotter than the North Indian cuisine. South Indians do not make much use of garam Masala and other dried spices. However, turmeric, black pepper and cardamom are an exception. For the cuisine of South India, it can be said that it is a perfect blend of flavor, color and taste and also takes care of the nutritional balance. Even, the visual appeal of the South Indian dishes is quite alluring. South Indians usually prefer drinking coffee after having their meals. Well, coffee has become a popular beverage in the entire country. Coconut milk is also quite common in South India.
South Indian cuisine consists of the cuisine of four states, namely Andhra Pradesh, Karnataka, Kerala and Tamil Nadu. All the four cuisines have lot many things in common; however, they differ in terms of the spice content in their food preparations.
Andhra Food
Andhra food is the spiciest and the hottest of all the South Indian cuisines. There is a liberal use of oil, tamarind and chilli powder (Guntur). An interesting thing is that though Hyderabad is the capital city of Andhra Pradesh, its cuisine is absolutely distinct from that of Andhra cuisine.
Popular Vegetarian Food:
Pesarattu, gongura, pulihora, avakkai (cut raw mango) pickle
Popular Non-vegetarian Food:
Kodi iguru(fry), Kodi pulusu(gravy), Chepa pulusu etc
Karnataka Food
In Karnataka, lunch is mostly served on a plantain leaf. There is a higher percentage of vegetarians in Karnataka; therefore, their cuisine mainly consists of vegetarian dishes. The food of Karnataka is the mildest of all. Here, the use of chilli powder is done sparingly. They make a liberal use of palm sugar or brown sugar. Udupi food forms part of the cuisine of Karnataka.
Popular dishes:
Ragi rotti, Akki rotti, Khara Bisi bele bath, Kesari Bath, Vangi Bath, Saaru, Bath, Davanagere Benne Dosa, Ragi mudde, and Uppittu.
In South Karnataka, Rava Idli, Mysore Masala Dosa and Medhu Vada are extremely popular.
Among the sweet dishes, Karnataka is well known for its wonderful preparation of Mysore Pak, Dharwad pedha, Pheni, Chiroti.
Kerala Food
Kerala cuisine mainly consists of coconut based foodstuff. Since, Kerala is the chief exporter of coconut; therefore coconut is used liberally over here. Kerala is a place well known for its beautiful backwaters and thus, this place is a paradise for seafood lovers. There is an abundance of seafood specialties.
Popular Vegetarian Food:
Aviyal, olan,
Popular Non-vegetarian Food:
Shrimp coconut curry, fish poriyal
Tamil Food
The cuisine of Tamilnadu consists of plenty of mouthwatering vegetarian and non vegetarian dishes. Tamilnadu has a lot to offer, when it comes to food.
Popular Vegetarian Food:
Idli
,
sambar
, rasam,
vada
, thayir sadam (yogurt rice), thayir vadai, murukku, kootu, poriyal, uthappam, appalam and papadum and thayir pachadi
Popular Non-vegetarian Food:,
Chettinad pepper chicken and karuvadu kozhumu (dried preserved fish flavored curry)