Born:
December 3, 1884
Passed Away:
February 28, 1963
Contributions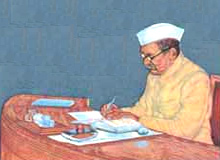 Rajendra Prasad was a great leader of the Indian Nationalist Movement and also one of the architects of the Indian Constitution. He was elected as the first President of Republic of India. Rajendra Prasad was a crucial leader of the Indian Independence Movement, who left his lucrative profession to participate in the nationalist movement of India. He was also awarded with Bharat Ratna, India's highest civilian award. on 28 February, 1963, following a brief illness, the great soul passed away.
Life
Dr. Rajendra Prasad was born into a big joint family of Mahadev Sahay in the Siwan district of Bihar, near Chhapra. His father, Mahadev Sahay was a scholar of Persian and Sanskrit language while his mother Kamleshwari Devi was a religious lady.
When Rajendra Prasad was five years old, his parents put him under a Maulavi learn Persian language followed by Hindi and arithmetic. After the completion of traditional elementary education, Rajendra Prasad was sent to the Chhapra District School. At the age of 12, Rajendra Prasad was married to Rajavanshi Devi. He, along with his elder brother Mahendra Prasad, then went on to study at R.K. Ghosh's Academy in Patna. Mahendra was eight years older than him.
Since childhood, Rajendra Prasad was a brilliant student. He stood first in the entrance examination to the University of Calcutta and was awarded Rs.30 per month as scholarship. In 1902, Rajendra Prasad joined the Presidency College. He was initially a student of science and his teachers included J.C.Bose and Prafulla Chandra Roy. Later he decided to switch his focus to the arts. Prasad lived with his brother in the Eden Hindu Hostel. A plaque still commemorates his stay in that room. Dr. Rajendra Prasad was instrumental in the formation of the Bihari Students' Conference in 1908. It was the first organization of its kind in the whole of India. The move produced the entire political leadership of the twenties in Bihar
In 1915, Rajendra Prasad passed with a Gold medal in Masters in Law examination with honors. He then went on to complete his Doctorate in Law. Rajendra Prasad used to practice his Law & studies at Bhagalpur in Bihar and eventually emerged as a popular and eminent figure of the entire region. In 1916, Rajendra Prasad joined the High Court of Bihar and Orissa. Such was his intellect and his integrity, that often when his adversary failed to cite a precedent, the judges asked Rajendra Prasad to cite a precedent against himself.
Nationalist Movement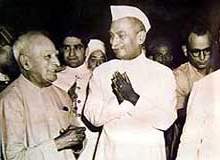 In 1911, during his stay in Calcutta (now Kolkata) as a legal practitioner, Rajendra Prasad joined the Indian National Congress Party and was subsequently elected to the AICC. During the Champaran movement, Mahatma Gandhi asked Rajendra Prasad to visit Champaran along with the other volunteers and partisans of the Indian National Congress. Initially Rajendra Prasad was not impressed with Gandhiji's appearance and conversation but deeply moved by the dedication, conviction and courage of Gandhi.
Rajendra Prasad also responded to the call of Mahatma Gandhi to boycott Western education. He asked his son Mrityunjaya Prasad, a brilliant student to leave the University and enroll himself in Bihar Vidyapeeth. He would write articles for magazines like "Searchlight" and "Desh". When the earthquake of Bihar occurred on January 15, 1934, Rajendra Prasad was in jail. He was released two days later. He set himself for the task of raising funds and collected over Rs 38 Lakhs. Nationalist India expressed its admiration by electing Rajendra Prasad as the President of the Bombay session of the Indian National Congress Party in October 1934.
In July 1946, when the Constituent Assembly was established to frame the Constitution of India, Dr. Rajendra Prasad was elected its President. And, eventually he was also elected as the first President of Republic of India. Unfortunately, on the night of 25 January 1950, a day before the Republic Day of India, his sister Bhagwati Devi passed away. He set about the cremation but only after his return from the parade ground.
Death
In September 1962, Rajendra Prasad's wife Rajavanshi Devi passed away. The incident helped in the deterioration of his health and after suffering from brief illness for around six months on February 28, 1963, Dr. Prasad expired. Rajendra Prasad spent the last few months of his life in retirement at the Sadaqat Ashram in Patna. Rajendra Prasad was awarded with "Bharat Ratna", the nation's highest civilian award.