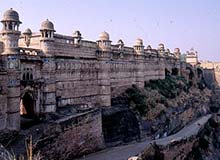 The Gwalior fort spreads out over an area of 3 square km, surrounded by concrete walls of sandstone. The Gwalior fort encloses three temples, six palaces and numerous water tanks. At a point of time Gwalior fort was regarded as North and Central India's most invincible fortress. The fort was built by Raja Man Singh Tomar in the 15th century. The fort of Gwalior has seen many ups and downs of history. In the course of almost five hundred years, the Gwalior fort went from one ruler to another.
From the Tomars it passed to the Mughals, Marathas and the British. The Gwalior fort finally went to the Scindias from the British. The Teli-ka-Mandir is the most famous of all the temples of the Gwalior fort. This temple was built in the Dravidian style shrine and is notable for its generously sculpted exterior. The Saas-Bahu Temples (two pillared temples which stand next to each other, one larger than the other) are also fascinating.
The Man Singh Palace is one of the most amazing palaces of the Gwalior fort. It was built by Man Singh in the 15th century. It was in the same palace the Mughal emperor Aurangzeb imprisoned and later murdered his brother Murad. Then there is gruesome Jauhar Kund, where the women of the harem burnt themselves to death after the defeat of the king of Gwalior in 1232. Other significant palaces within the Gwalior Fort include the Karan Palace, the Jahangir Mahal, the Shah Jahan Mahal and the Gujri Mahal (built by Man Singh for his favorite queen, Mrignayani).