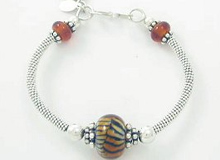 Bead art in India is five thousand year old and dates back to the time of Indus Valley Civilization. People of that civilization used to make beads out of gold, silver, copper, clay, ivory and even wood. The excavated carried out there came out with finished and unfinished beads from the site. After looking onto them, one gets amazed at the wonderful sense of bead work and jewelry at that time. India is amongst the largest producers of glass beads and particularly, the beads produced in Banaras are exported in large quantities.
During Mughal era also, bead jewelry was in vogue. Bead necklaces of different size and shapes, made up of precious and semi-precious stones, were quite popular during that time. Later on, when Europeans came to India, the bead work became more transparent and semi-transparent. Europeans looked for better and refined as well as transparent bead work, which enabled the artisans to develop their art up to the optimum. This led to widening of the horizon of bead jewelry making.
The bead making part of making bead jewelry is extremely intricate and time consuming. As regards the procedure for the same, the material out of which beads are to be made is first chiseled to obtain a desired shape and size. Thereafter, a hole is drilled into the material, so that a string passes through it, facilitating the stringing of a number of beads together. This whole process is time consuming and asks for lots of patience. Indian craftsmen have known the making of silver beads since ancient times.
Karnal city is known for hollow beads made out of silver. These days, beads made out sterling silver are gaining popularity. Now is the time for fancy glass beads, colored glass beads and crafted metal beads too. Today, glass beads have become a part of the jewelry worn by urban women in India. Beads made from semi-precious stones also continue to be popular in the country. Beads come in an assortment of shapes and colors and at times, are carved also. Other than the use in jewelry, they are used for embroidery works too.