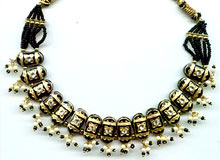 Lac jewelry, also known as lacquer jewelry, originated in Rajasthan and has gained considerable popularity in India today. Lac jewelry is available in versatile designs, which add to its beauty. Among the various items in lac jewelry, the bangles need a special mention. Bangles made of Lac are of bright color and glass work done on them makes them more attractive. Rajasthani people believe that lac bangles bring good omen to those who wear them. They are very popular in Rajasthan and lately are being made in other parts of country too.
This prominent craft of Rajasthan was initially developed by tribal people of the state. Once the craft of tribal people, lacquer jewelry is now rage of urban India. The accessories made of lac attract everyone for obvious reasons. Some of the major accessories included in lac jewelry, like Bala, Bajuband, Rakhi, Jod, Gajra, Gokhru, Timaniyan, are extremely popular. A good chunk of the jewelry is exported to outside world, which in turn provides more employment and inspires improvisation in design and pattern of jewelry.
The process of making lac jewelry is complex. Glass beads, flower shaped mirrors and decorative wire are also used for the enhancement of beauty of the jewelry. The bangles of lac consist of an inner-core that has a covering of thin layer of superior quality lac. Core lac, when mixed with a material similar to white clay, strengthens the bangle. The heating, mixing, kneading, and hammer pounding of the parched ingredients takes place repeatedly and dough like mass is formed.
Once this mass is heated, it is shaped further and the expansion of the lac takes place in lieu of bargained diameter. This results in thickening of bangle. Further, a tool (flat-shaped) is used to roll the bangle across the flat surface, which gives it a proper thickness. The shaping is done by suppressing the length of lac into grooves (colored) on every side of the mould. The lac takes the shape of the groove into which it is forced. This process, which requires great precision, produces the most beautiful pieces of jewelry.