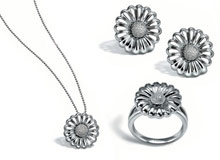 Silver Jewelry, along with gold jewelry, is quite popular amongst Indian women. Ornaments made of silver, such as rings, bracelets, chains, necklaces, nose rings, earrings, toe rings, heavy kadas, and armlets, form integral part of Indian jewelry. Whereas gold jewelry has been the most popular among Indian women since ages, silver jewelry is not far behind in popularity. Apart from cities, it finds solace in the rural areas and tribal areas of the country as well. In fact, silver made jewelry is forms an integral part of the adoration and dress of tribal people.
Women in rural areas and tribal areas wear heavy silver jewelry for decoration. These heavy jewelries are meant for financial security during contingency, apart from being a source of adornment. The practice of making new jewelry by melting old silver jewelry is still practiced in major parts of India, but recently new trend has been seen reversal in market. Old silver jewelry is in demand and in fashion now. Oxidized silver jewellery, with traditional designs that gives old and rough look, is quite popular these days.
Silver jewelry studded with gold, precious and semi-precious stones is quite popular, particularly in southern parts of India,. The USP of these ornaments is that they are light weight and of reasonable cost. The versatility can be observed in silver jewelry, as different states have indigenous influence over its design. The pattern and precision differ according to region and likes-dislikes of people. Many times, one can determine the marital status of women as well as her community by the jewelry she wears.
Silver jewelry made at Kolhapur (Maharashtra), Hathras (UP), Salem (Tamil Nadu), and Rajkot (Gujarat) is of traditional design and of light weight. The traditional motifs and designs are adorned with precious and semi-precious stones. Such jewelry is quite popular all across the world, with large quantities being exported. Youngsters in cities can also be seen adorning themselves with silver jewelry, mainly owing to its wide variety and economical prices, as compared to gold and other jewelry.