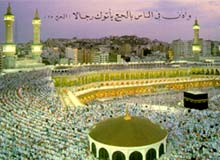 One of the prominent religions of India, Islam forms about 12 per cent of India's population. Though India's contact with Islam had begun much earlier, the real push came in the 8th century when the province of Sindh was conquered. Though the Muslims form only 12 per cent of the total population of India but the influence of Islam on Indian society is much stronger. The main reason for this strong influence is that over a long period of time many Muslim rulers ruled in different parts of India.
The country with the largest Muslim population today is Indonesia and it is followed by India. The followers of Islamic religion, Muslims constitute India's largest religious minority. They number about 105 million. This makes India one of the largest Islamic nations in the world. India has had two Muslim Presidents and several cabinet and state chief ministers since Independence. Besides, Muslims in India have always held various responsible positions and posts in all walks of life.
In India the Muslims are divided into two main sects- Sunni and Shia. Each one of these two sects has many different schools. Along with these main divisions, the Indian Muslims also have other divisions. It is mainly because different communities that adopted Islam have different names. The Bohra and the Khoja Muslim communities are prominent in west India. The Nawait call themselves as descendants of Arab and Persian immigrants.
In south India in the state of Kerala, the famous Mopillah community is said to have descended from Arab merchants. Another well known Indian Muslim community is Pathan. The Pathans are Muslims who arrived from Afghanistan to India. The Pathans put their surname as Khan. They are regarded as brave, honest and righteous