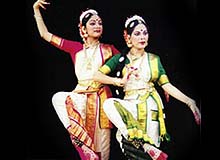 Kuchipudi is one of the classical dance forms of the South India. Kuchipudi derives its name from the Kuchipudi village of Andhra Pradesh. In the seventeenth century the Kuchipudi village was presented to the Brahmins, who were experts in staging dance and drama. Kuchipudi exhibits scenes from the Hindu Epics, legends and mythological tales through a combination of music, dance and acting. Like other classical dances, Kuchipudi also comprises pure dance, mime and histrionics but it is the use of speech that distinguishes Kuchipudi's presentation as dance drama.
Carrying a fine combination of Natya, Nritta and Nritya, Kuchipudi was never a solo affair and required a number of performers. Kuchipudi was performed in the open air by performers who were given a vigorous training in abhinaya, music, dancing and singing. In its early form, the female roles were played by boys and young men of beautiful looks. The director (called Sutradhar) played the most important role. He combined the role of conductor, dancer, singer, musician, comedian, all in one. The Kuchipudi performance started with orchestral music which included Mridanga, Madala and a pair of cymbals. To bless the performance invocation of a deity was done. All this was followed by announcement of the theme of the play and introduction of characters by the sutradhar.
In modern times the Kuchipudi dance is considerably different than it originally used to be. Most of the performances are solo, done by female dancers. Today the expressional numbers are sung by the danseuse herself instead by the vocalists in the background of the stage. The invocation of deity part has also been done away with as Kuchipudi has become more secular in its presentation. Today there is predominance of 'sringar' or erotic essence. Another notable facet of modern day Kuchipudi is the dilution of drama component.
Kuchipudi has many features that are common to other classical dances of India. Kuchipudi carries the sensuousness and fluidity of Odissi with the geometric line of today's Bharata Natyam. As in all other classical dance forms of India, the Kuchipudi dance is both interpretive and lyrical, making use of abstract dance sequences as well. Kuchipudi dance retains its devotional character with stress on dramatic outlook. It is because of these qualities and features Kuchipudi dance enjoys great popularity and is recognized as one of the leading classical dance styles of India.