| | |
| --- | --- |
| Location: | Anantapur district, Andhra Pradesh |
| Highlight: | Puttaparthi is the birthplace of one of the greatest saints of India, Sri Sathya Sai Baba. |
| How to Reach: | Puttaparthy has an airport and is connected to Mumbai and Chennai via flights. Trains from major cities of India can also reach the place. |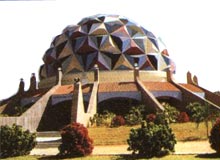 Puttaparthi is a small dusty village located in Anantapur district in the state of Andhra Pradesh in India. It has now attained international as well as national fame because of the glory of Bhagvan Shri Sathya Sai Baba. In Puttaparthy, Sai Baba Ashram was built by his ardent devotees and is called as "Prashanti Nilayam", which means abode of peace. It is one of the most popular pilgrimages in India and devotees from all over the world come to this sleepy little village to seek the blessings of the great Sai Baba. Once a tiny unheard hamlet in India, Puttaparthi now has an airport and a super specialty hospital among famous educational institutions.
Everyday thousands of devotees come to Prashanti Nilayam to seek the blessings of Sai Baba. A specially trained staff sings hymns in the praise of Sai Baba and then he gives a religious discourse. His teachings are based on the principles that make the very foundation of life. These are truth, righteousness, peace, universal love and non-violence. The ashram has educational institutions, museums, space centers, etc. Every year on the 23rd of November, Prashanti Nilayam is decorated beautifully as it is the birthday of Sai Baba.
A trip to south India is literally incomplete without visiting the Sai Baba ashram of Puttaparthi. There are many interesting places in Puttaparthi that should be visited like Satyabhama Temple, Shiva Temple where Sai Baba was born, Chitravati River, "Kalpavruksha" or the wish fulfilling tamarind tree from which Baba miraculously produced exotic fruits, Sathya Sai super specialty hospital, etc.