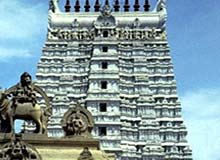 Rameshwaram is situated at the tip of the Indian peninsula. In the Hindu mythology Rameshwaram is considered a sacred place for the Hindus. Legends have it that Lord Rama built a bridge across the sea, from Rameshwaram, to rescue his consort Sita, from the clutches of the demon king, Ravana. This is also the place where Rama worshipped Lord Shiva to wash away the sin of killing Ravana. Rameshwaram is known as the Varanasi of south India. It is said that a pilgrimage is Varanasi is incomplete without a pilgrimage to Rameshwaram.
According to the Hindu mythology Lord Rama performed thanksgiving rituals to Lord Shiva after his triumph over the demon king Ravana. It is mainly because of this reason that Rameshwaram attracts Vaishnavites and Shaivites alike. Sri Lanka is at a distance of 24 kilometers from Rameshwaram. Rameshwaram happens to one of the most visited pilgrim sites in India. The Rameshwaram Island occupies an area of about 61.8 sq km and is conch shaped.
Attractions of Rameshwaram
Ramanathaswamy Temple
The famous Ramnathswamy temple was built in the 17th century and is situated close to the sea on the eastern side of the Rameshwaram Island. The Ramnathswamy temple is famous for its 1200 massive granite columns. The temple has 54 meter tall gopuram (gate-tower) and 1220 meters of magnificent corridors.
Agnitheertham
The Agniteertham is located at a few meters from the Ramnathswamy temple. It is believed to be located at the same spot where Rama worshipped Lord Shiva.
Dhanushkodi
Dhanushkodi is located at the eastern end of the island. It is named after Lord Ram's bow and is at a distance of 8 km from Rameshwaram. The boulders in the sea between Sri Lanka and Dhanushkodi are known as Adam's bridge. It is believed that Lord Hanuman used them to reach across Sri Lanka.
Erwadi
At a distance of 24 km from Rameshwaram, Erwadi is an important place of Muslim pilgrimage. The tomb of Ibrahim Sahid Auliya is located at Erwadi. Muslims from across the globe visit Erwadi, especially during the month of December to participate in the annual festival held to pay tribute to the saint.