Born:
26 July, 1874
Passed Away:
6 May, 1922
Contributions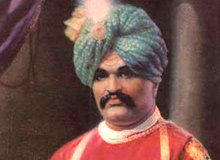 King Shahu Chhatrapati was considered as a true democrat and social reformer. He was an invaluable gem in the history of Kolhapur. Shahu was associated with many progressive activities in the society including education for women. He was greatly influenced by the contributions of social reformer Jyotiba Phule. Primary education to all regardless of caste and creed was one of the significant moves of the King.
Life
Shahu Chhatrapati was the King of Kolhapur. He was the son of Sambhaji and grandson of Shivaji, the great. Shahu was a staunch follower of Mahatma Jyotiba Phule and Shahu devoted his life for the upliftment of the society. He emphasized on the development and welfare of the lower-castes. He always used to contemplate over some serious issues of the society. He carried out efforts to provide education and employment to all. Shahuji initiated the process of providing free education to the children of the down-trodden class. In order to provide shelter to them and outstation students, Shahuji established hostels.
During the rule of Shahu Chhatrapati, Child marriage was sincerely restricted. He also voiced his support favoring inter-caste marriage and widow remarriage. For his activities, Shahu Chhatrapati had to face severe criticism from many corners of the society. As said above, Shahuji was influenced by the works Jyotiba Phule, and he long patronized the Satya Shodhak Samaj, formed by Phule. But, later he moved towards the Arya Samaj.
Wrestling was one of the favorite sports of Chhatrapati Shahu. Wrestlers from all over the country would come to his state of Kolhapur to participate in the wrestling competition.
Death
The great ruler and social thinker, Chhatrapati Shahuji Maharaj died on 6 May, 1922. It was believed that reforms started by him also faded away as there was nobody to lead the movement.