| | |
| --- | --- |
| Location: | Mumbai, Maharashtra |
| Highlights: | A very famous temple dedicated to Lord Ganesha |
| How to Reach: | Mumbai is a major metropolitan city, which can be reached from anywhere in India. Once in Mumbai, you can hire an auto or a cab and reach Siddhivinayak Temple. |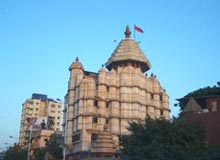 Regarded as one of the most popular and religious temples in India, Siddhivinayak Temple located in Prabhadevi, Mumbai, is visited by devout believers from all walks of life. Built in the year 1801 by Lakshman Vithu and Deubai Patil, this temple has earned international acclaim. Shree Sidhi Vinayaka temple was renovated some years back to accommodate the ever-increasing number of devotees. The name Siddhivinayak means "Ganesha who grants your wishes". The temple is often visited by high profile celebrities like Sachin Tendulkar, Amitabh Bachchan, Bal Thackeray, etc.
The architecture of Siddhivinayak temple is worth seeing. The inner roof of the main sanctorum is gold plated and there are magnificently carved wooden doors that lead to the main sanctorum. There are beautiful carvings on the doors depicting the eight holy forms of Lord Ganesha, known as "Ashta Vinayak". The main idol of Lord Ganesha is shown having four hands carrying a lotus, an axe, modakas (sweet deep-fried dumplings) and a garland of beads. Unlike other Ganesha idols, this idol has its trunk pointing towards the right instead left. His two wives, Riddhi and Siddhi are shown as his escorts.
Every Tuesday, Sidhi Vinayaka Temple is thronged by thousands of devotees, as Tuesday is an auspicious day for visiting Lord Ganesha's temple. According to the Hindu tradition, Lord Ganesha is always worshipped before beginning any new work or project. Thus, it is considered very auspicious to visit this temple before beginning anything new. It is one of the oldest temples in Mumbai and the festival of Ganesha Chaturthi is celebrated very grandly over here.