Somnath Temple
| | |
| --- | --- |
| Location: | Gujarat, India |
| Highlights: | A very famous and holy pilgrimage of Lord Shiva |
| How to Reach: | The nearest railway station is located at a distance of 5 kilometers from Somnath. One can take a flight to Keshod, which is the nearest airport to Somnath at a distance of 47 kilometers. |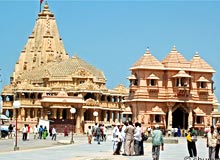 Located in the state of Gujarat in India, the famous Somnath Temple is a very sacred Hindu pilgrimage site. It is dedicated to Lord Shiva and is considered to be one of the twelve "Jyotirlingas" (lighted lingas), which is a symbol of Lord Shiva. The temple of Somnath has existed since times immemorial and it is also mentioned in the oldest holy scriptures, Rig Veda. An interesting fact about Somnath temple is that though it has been destroyed a number of times; it has always been rebuilt. Read the legend behind the Somnatha pilgrimage.
It is said that the Somnath temple was built by the moon God himself in gold, then by the demon king Ravana in silver, in sandalwood by Lord Krishna and in stone by the one of the rulers of Gujarat, Bhimdeva. It is said that the moon was very proud because of his beauty. Angered by his arrogance, his father-in-law cursed him to decrease and ultimately vanish. He pleaded for mercy and then was told to worship Lord Shiva. His curse was removed partially and he thus built the temple for Lord Shiva.
The architecture of the present temple reflects the Chalukya style of construction. The intricate and flawless carvings speak volumes about the skilled artisans of Gujarat. An inscription on the Arrow Pillar on the sea protection wall states that there is no piece of land between the point where the temple stands and Antarctica. The first President of India, Dr. Rajendra Prasad commented that the Somnath temple symbolizes the fact that the power of creation is always more than the power of destruction.