Born:
May 1, 1944
Contributions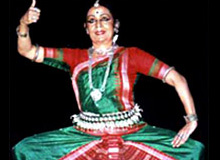 Sonal Mansingh is an eminent Indian classical dancer and a leading exponent of Bharatnatyam, Kuchipudi, and Chhau. Besides being a dancer, Sonal Mansingh is a well-known choreographer, teacher, orator and a social activist. For her contributions in the field of "Classical dancing" she has received accolades from many national and international organizations. She was the youngest recipient of Padma Bhushan, in 1992. In 2003, Sonal became the first Indian woman dancer to be awarded with Padma Vibhushan.
Life
Sonal Mansingh was born to Arvind and Poornima Pakvasa on May 1, 1944 in Mumbai. Her mother was a noted social activist and in 2002 awarded with Padma Bhushan. Her grandfather was Mangal Das Pakvasa, a freedom fighter, and one of the first five Governors of India. She has B.A. (Honors) degree in German Literature from Elphinstone College, Bombay.
Learning
Sonal Mansingh started learning fundamentals of Bharatnatyam from Guru Kumar Jayakar at the age of seven, at the Pandanallur school in Bombay. Later, she learnt Bharatanatyam from Professor U S Krishna Rao and Chandrabhaga Devi at Bangalore. Her maiden professional performance was at Mumbai in 1964. In 1965, she learnt Odissi from Guru Kelucharan Mohapatra. She learnt almost all the dance numbers, which are currently in the repository of Odissi. Sonal aggrandized her dance by acquiring the different strands of Orissa culture. Sonal has made much choreography on Indian mythology. Her renowned choreographic works include 'Indradhanush', Manavatta', 'Sabras', 'Devi Durga', 'Aatmayan', 'Mera Bharat', 'Draupati'.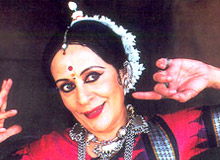 Sonal Mansingh believes that society and its happenings have an impact on all arts and subsequently on the artists. To her, dance is the medium through which she can present the views of the unheard. According to her, dancers must have love for literature, poetry, languages, sculpture and painting as dance is a rare confluence of all these arts.
Centre for Indian Classical Dances
In 1977, Sonal Mansingh founded the Centre for Indian Classical Dances in New Delhi to train students in Indian classical dance. The organization has been working to promote performing arts and nurturing the cultural legacy of India. She is also the trustee of the largest institution in India, the Indira Gandhi National Center for Arts.
Awards
Sonal Mansingh is the youngest recipient to receive the Padma Bhushan awarded by the President of India in 1992. Besides, she has received several other honors for her contribution to dance, a few of which are listed below. It includes the, 'Singar Mani' from Haridas Sangeet Sammelan, 'Natya Kala Ratna' from National Cultural Organisation, 'Rajiv Gandhi Excellence Award', 'Indira Priya Darshini Awards', Medals of Friendship of Vietnam and Cuba State Council etc. Rewarded with Padma Vibhushan in 2003, Sonal becomes the first Indian woman dancer to receive this high honor.