Born:
12 January, 1863
Died:
4 July, 1902
Contributions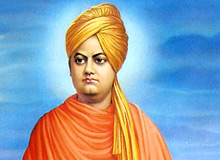 Swami Vivekananda is known for his inspiring speech at the Parliament of the World's Religions at Chicago on 11 September, 1893, where he introduced Hindu philosophy to the west. But this was not the only contribution of the saint. He revealed the true foundations of India's unity as a nation. He taught how a nation with such a vast diversity can be bound together by a feeling of humanity and brother-hood. Vivekananda emphasized the points of drawbacks of western culture and the contribution of India to overcome those. Freedom fighter Netaji Subhash Chandra Bose once said: "Swamiji harmonized the East and the West, religion and science, past and present. And that is why he is great. Our countrymen have gained unprecedented self-respect, self-reliance and self-assertion from his teachings." Vivekananda was successful in constructing a virtual bridge between the culture of East and the West. He interpreted the Hindu scriptures, philosophy and the way of life to the Western people. He made them realize that in spite of poverty and backwardness, India had a great contribution to make to world culture. He played a key role in ending India's cultural isolation from the rest of the world.
Family
Swami Vivekananda's real name was Narendranath Dutta and his parents called him 'Bile'. He was born in Calcutta's Shimla Palli, on January 12, 1863. His father Viswanath Dutta was a successful attorney with interests in a wide range of subjects, and his mother, Bhuvaneshwari Devi, was endowed with deep devotion, strong character and other qualities.
Education
Vivekananda was a precocious boy with a sharp memory and also excelled in music, gymnastics and studies in his childhood. He was also interested in instrumental and vocal music.
In 1879, Vivekananda went to the Presidency College, Calcutta University for higher studies. By the time he graduated from the college, he had acquired a vast knowledge of different subjects, especially Western philosophy and history. He was also associated with Brahmo Movement led by Keshab Chandra Sen, for some time. Vivekananda was always supported by one of his close friends Brajendranath Seal. In order to understand the intricacies of faith and spiritual insight both read the works of John Stuart Mill, Auguste Comte, Herbert Spencer and G.W.F. Hegel. He also questioned the validity of superstitious customs and discrimination based on caste and religion. During this spiritual crisis, Vivekananda first heard about Sri Ramakrishna from William Hastie, the Principal of the Scottish Church College.
With Ramakrishna Paramhansa
One day in November 1881, Vivekananda went to Kali Temple in Dakshineshwar where Sri Ramakrishna was staying. He straightaway asked the Ramakrishna, "Sir, have you seen God?" Without a moment's hesitation, Sri Ramakrishna replied: "Yes, I have. I see Him as clearly as I see you, only in a much deeper sense." Vivekananda was astonished with Ramakrishna's reply. He was also surprised to see a common simple man saying that "God can be seen". Apart from removing doubts from the mind of Narendra, Sri Ramakrishna won him over through his pure, unselfish love. Vivekananda started visiting Dakshineswar frequently and a relationship of "Master and disciple" developed between the two.
Vivekananda as a Monk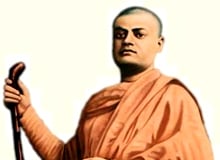 In 1884, Vivekananda went under a considerable distress due to the death of his father. Now, he had to support his mother, brothers and sisters. And, after few months his guru Ramakrishna fell seriously ill. He was suffering from throat cancer. In September 1885, Sri Ramakrishna was moved to Shyampukur, and a few months later Vivekananda took a rented villa at Cossipore. Here, he formed a group of young people who also believed in the same principles as Vivekananda. The young disciples, then, nursed the Master with devoted care. On 16 August, 1886 Sri Ramakrishna gave up his mortal body.
After the passing away of Sri Ramamkrishna, around fifteen of his disciples began to live together in a dilapidated building at Baranagar in North Calcutta. Under the leadership of Narendra, they formed a new monastic brotherhood, and in 1887 they took the formal vows of sanyasa, thereby assuming new names. Few months later, they all left for a journey to become a wandering monk.
Ramkrishna Mission
During his travels all over the country, Vivekananda was deeply hurt to see the appalling poverty and backwardness of the countrymen. He found people starving for days and there are no food and shelter for them. He also found that, despite of poverty, the masses clung to religion. One thing became clear to Swamiji: to carry out his plans for the spread of education and for the uplift of the poor masses, and also of women, an efficient organization of dedicated people was needed. Few years later, he founded one of the world's largest charitable relief missions, the Ramakrishna Mission.
Death
On 4 July , 1902, the day of his death, he had a walk with Swami Premananda, a brother-disciple at Belur Math, Calcutta. Vivekananda expired while he was meditating.