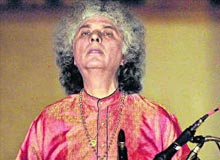 Pandit Shivkumar Sharma is a very famous classical musician who has acquired international fame by playing the classical instrument, Santoor. The Santoor is a trapezoid-shaped hammered dulcimer often made of walnut wood and has 72 strings, which are struck with two delicate carved wooden mallets. The santoor is essentially a folk instrument that originated in the Kashmir Valley, which was given the status of a classical instrument due to the persistent efforts of Pandit Shivkumar Sharma. Reaching at this level in life was not easy for him and it is because of the determination of Shivkumar Sharma that the Santoor is a popular classical instrument. Know his life history in this short biography of Pt. Shiv Kumar Sharma.
Shivkumar Sharma was born on 13th January, 1938 in Jammu. He was introduced to the Santoor by his father and teacher, Pandit Uma Dutt Sharma. He was renowned player of the instrument and also a vocalist. He was a disciple of Pandit Bade Ramdasji of Banaras. Shivkumar Sharma learnt the tabla and also vocal singing before dedicating himself to learn the Santoor extensively. The Santoor was known as the Shata-Tantri Veena in earlier days. It was used to accompany a particular type of singing known as Sufiana Mausiqi. Pandit Uma Dutt Sharma gave the responsibility of taking the Santoor on the world stage to his son Shivkumar after extensive research on its possibilities.
Today, Shivkumar Sharma and the Santoor are synonymous. Shivkumar Sharma has truly been successful in giving the Santoor the position of a popular classical instrument. Shivkumar Sharma modified the folk instrument in order to make it more suitable for classical music. He increased its range to full three octaves and also created a technique for smoother gliding between music notes in order to imitate human voice quality. Shivkumar Sharma also created a new way of playing it so that the notes and sound continuity could be maintained for a long time.
Shivkumar Sharma has collaborated with many musicians like Zakir Hussain and Hariprasad Chaurasiya. He also composed music for Hindi films like "Darr", "Silsila", "Lamhe", etc. Some of his famous albums are Call of the Valley, Sampradaya, Elements: Water, Music of the Mountains, Megh Malhar, etc. His son Rahul is also a famous Santoor player. Shivkumar Sharma is the recipient of many prestigious awards like Padmashree, Padma Vibhushan, Sangeet Natak Academy Award, Honorary Doctorate from the University of Jammu, Ustad Hafiz Ali Khan Award, Maharashtra Gaurav Puraskar, etc. He also has an honorary citizenship of the city of Baltimore, USA. This flawless musician truly deserves these honors and more. His Santoor recitals shall keep us mesmerized for many more years to come.