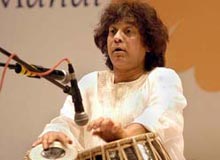 Popularly known as Tabla Maestro, Ustad Zakir Hussain is the son of the renowned tabla player Ustad Allah Rakha. He was born on 9th March, 1951 and showed much interest in tabla since a very young age. This child prodigy started touring by the time he was twelve and started to perform at concerts and gain much recognition and fame. He went to in St. Michael's High School in Mahim and did his graduation from St. Xavier's Mumbai. In his twenties, he started to tour the United States frequently and performed in not less than 150 concerts per year. Read the fascinating life history of the famous musical genius in this biography of Zakhir Hussein.
Zakir Hussain has had the opportunity to perform with many talented musicians not just in India but also all over the world. He became a famous international phenomenon. He has composed for many English movies like Apocalypse Now, In Custody, Little Buddha, The Mystic Masseur, Heat and Dust, etc. Zakir Hussain also acted in a brilliant documentary named "The Speaking Hand: Zakir Hussain and the Art of the Indian Drum" that was released in the year 2003. But it was not released on DVD due to lack of audience response. He also composed, performed and provided his valuable advice for Vanaprastham, which was screened at the prestigious Cannes Film Festival.
Zakhir has performed with many artists and has created brilliant works of fusion. His partnership with the famous band The Beatles truly deserves a special mention. He also recorded with the American psychedelic band called "Shanti" in the year 1971. In 1975, he worked with John McLaughlin in the band "Shakti". This band had John McLaughlin, Zakir Hussain, L. Shankar, T.H. "Vikku" Vinayakram and R. Raghavan. It was disbanded by late 70's. However, the band was reunited a few years later by the name of Remember Shakti with some new members. The new band has released many albums like Saturday Night in Bombay, The Believer and 38th Montreux Jazz Festival.
Zakhir Hussain also released his first solo album "Making Music" in the year 1987, which was proclaimed to be one of the most inspired East-West fusion albums ever. He was awarded the "Padma Shree" by the Government in the year 1988, thus making him the youngest percussionist to ever receive this award. Zakir Hussain has also received the National Heritage Fellowship (1999) which the most prestigious honor for a master in traditional arts in U.S. He has also been honored with Sangeet Natak Akademi Award by the President of India in the year 1991. He was also awarded the Grammy for the album "Planet Drum" which was produced and created by Zakir Hussain and Mickey Hart.
Zakir Hussain married an Italian-American Kathak Dancer, Antonia Minnecola. She earlier worked as his manager for some time. Zakir Hussain has two daughters Anisa Qureshi and Isabella Qureshi. Anisa Qureshi graduated from UCLA and is trying her hand in video production and film making. The other daughter, Isabella is studying as a dance major in Manhattan. Zakhir Hussain has truly made his indelible mark in the field of music and has also acquired international acclaim. A true legend, his music shall continue to enthrall us for many more years to come.