Born:
December 8, 1900
Passed Away:
September 26, 1977
Contribution
Uday Shankar initiated a unique movement of revival of classical dances in 1930. Though he had no formal training in any classical form, his presentations were creative. Uday Shankar used the essence of various traditions and techniques in his dance dramas and succeeded in presenting an integrated composition. The government of India awarded Uday Shankar with the coveted "Padma Vibhushan.
Life
Born in Udaipur, Rajasthan, Uday Shankar was the eldest son of noted barrister Syam Shankar. He was the eldest of the four siblings. His youngest brother, Rabindra is a popular sitar maestro and familiar to all as "Pandit Ravi Shankar".
Besides an adept classical dancer, Uday Shankar also had the brilliance of a painter within. To develop his skills further, he was sent to the J. J. School of the Arts in Bombay. In 1920, Uday Shankar went to England to study painting at the Royal College of Art, London. There, he choreographed two ballads, based on the stories of Radha and Krishna and the other on "A Hindu Wedding". He also met famous Russian ballerina, Anna Pavlova at Covent Garden, where his ballads were premiered.
Own Troupe
In 1929, Uday Shankar returned to India to form a dance troupe of his own. Between 1930 and 1960, he toured through the western world and learned the western theatrical techniques. He also knitted the two different techniques so beautifully that his art became hugely popular both in India and the West.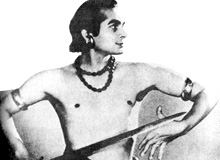 In 1938, Uday Shankar opened a dance school at Almora, Uttar Pradesh. He also invited leading exponents of different musical forms to teach in the school. Among the experts were, Shankaran Namboodiri for Kathakali, Kandappa Pillai for Bharatanatyam, Amobi Singh for Manipuri and Ustad Allauddin Khan. Later, the school came to be known as "Uday Shankar Indian Culture Center". During the World War-II, the "Uday Shankar Indian Culture Center" was forced to shut and was reopened twenty years later, but in Calcutta.
Family
Uday Shankar was married to one of his students Amala and also had a son and a daughter. Ananda Shankar, his son, was best known for his fusion in Western and Eastern musical styles. He was married to classical dancer Tanushree Shankar.
After Uday's death in 1977, his widow Amala Shankar took the charge of the school in Kolkata. The school continues to teach an all-embracing performance curriculum that includes training in folk and classical dance, improvisation, costume design etc.
Awards
Uday Shankar was awarded with "Padma Vibhushan" by the Government of India and the Desikottama by the Visva-Bharati University.